Heart of Texas Party Rentals Debuts Premium Summer Party Water Slides Waco Tx
April 24, 2023 at 21:31
Waco, Texas -
Heart of Texas Party Rentals Waco TX invites residents to make a splash at this summers' parties with an inflatable water slide. Rated as the premier party supplier in Waco, Heart of Texas Party Rentals takes the stress and worry out of party planning, and delivers memorable experiences. The company offers a wide variety of bounce houses and inflatables, including the new series of water slides that give party-goers a "thrilling adventure".
According to company rep Jonathan Rocha, the inflatable water slides are a huge hit during the company's busy summer months.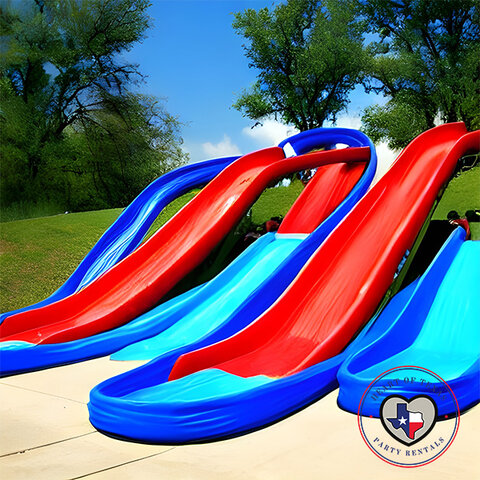 "The debut of our water slides has exceeded all my expectations," he says. "Clients love how entertained the whole family is with them. This years' slides are sure to impress again."
The water slides come in three sizes, including 10 ft, 20ft and 30 ft slides. Double-slides and character slides are also available for an additional fee. Age and height requirements for each slide are available through the company's website. It is important for the customer to correctly measure their event space so they can order an appropriately sized water slide. Slides can be set up in the grass or any flat area without rocks. While they can be set up in dirt, for cleaning purposes, it is not recommended.
"To see these slides in action, clients can visit our Youtube page," remarks Rocha. For parents worried about the safety of the slides, Rocha says the company takes every precaution to ensure each slide is clean, safely installed, and up-to-code on quality and structure. "Our technicians don't leave until they are certain the slide is secure, safe, and ready for play," he comments.
Water slides and inflatables are not the only things Heart of Texas Party Rentals offers. They provide full scale party supplies and equipment, from chairs and tables, to stanchions and patio heaters. Set up for a wedding reception, charity event, or even a community block party. Heart of Texas Party Rentals can offer support for almost any party.
"We love taking part in the most memorable moments in our clients' lives. We treat every event like it's our own," Rocha says.
The company, which started as a group of event planners looking to offer something exciting and unique to the Waco area, has grown to serve not only Waco, but neighboring towns as well. It is their hope that they are a household name in Waco, that people think of them synonymously with "unforgettable parties."
"We've got everything a party needs," Rocha states. "Character bounce houses, combo bounce houses, both dry and water slides, interactive games and activities, obstacle courses and so much more. "Our Facebook page also has some pictures and videos, as well as reviews."
As part of the offered services at Heart of Texas Party Rentals, customers can also rent much needed concessions for their event, including a snow cone maker, or an adult favorite, the margarita machine.
"The kids go crazy for the snow cones! And many adults enjoy the frozen margaritas," says Rocha.
For any rented item, Heart of Texas Party Rentals offer set up and break down to further relieve its clients of unnecessary burdens. "We want our clients to feel like all they have to do is give us a call, and we take care of the rest. Exceptional Service is our standard," Rocha asserts.
Waco's premier party supplier says that they plan to continue to grow the company in ways to keep their clients coming back. By consistently providing unforgettable events that go off without a hitch, Heart of Texas Party Rentals will stay the go-to supplier in the Texas town, Rocha hopes.
"We love Waco and we love parties. It is our greatest pride to serve this amazing community in this beautiful state of Texas," Rocha says.
To book a water slide or other party supplies for an event, contact Jonathan Rocha at (254) 218-1106 - heartoftexaspartyrentals@outlook.com. Visit their website at heartoftexaspartyrentals.com.
###
For more information about Heart of Texas Party Rentals, contact the company here:

Heart of Texas Party Rentals
Jonathan Rocha
(254) 218-1106
heartoftexaspartyrentals@outlook.com