Kaluga Hybrid Caviar HK Party Pack Launch - Nomad Caviar Offers Cousin of Beluga Caviar Delivery in Hong Kong
April 28, 2023 at 16:02
Hong Kong Island, Hong Kong -
Nomad Caviar is revolutionising the way its clients in Hong Kong buy and enjoy premium quality caviar.
Sourced from the best, most sustainable farms in Asia, Nomad Caviar's offerings are delivered straight to its customers' doorsteps by cutting out the middlemen. The company's unique and bold business model allows its clients to enjoy high-quality caviar that meets the standards of the best restaurants in the world, but at a much more accessible cost. The result is a transformation in how its customers view caviar itself – taking it from a seldom enjoyed luxury food to an indispensable delicacy that can be incorporated into their diets. For more information visit https://www.nomadcaviar.com/products/kaluga-hybrid.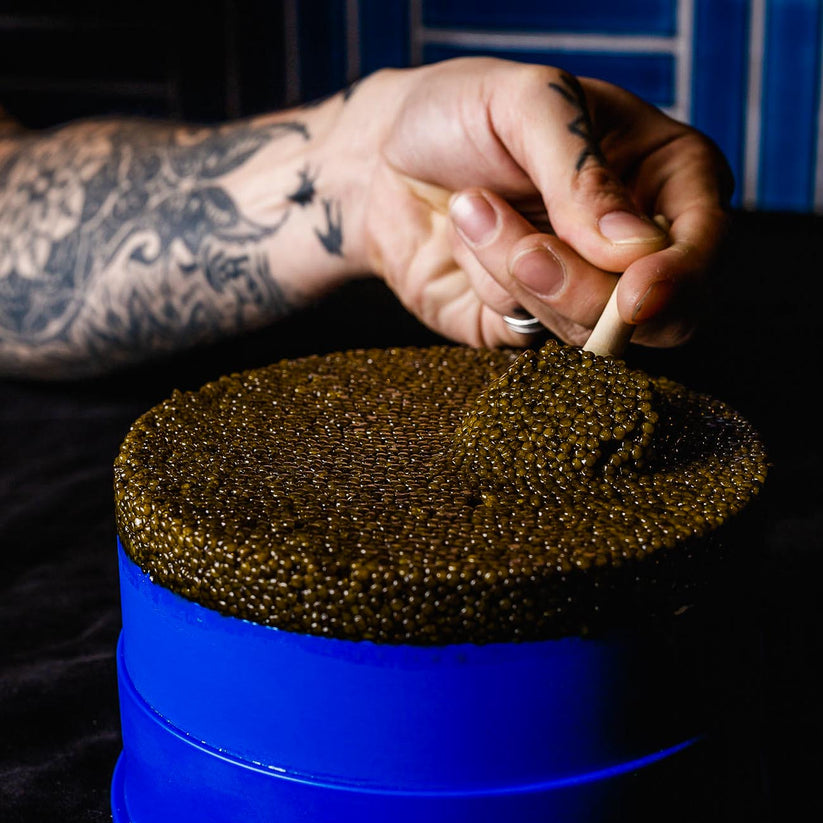 "The original pitch for Nomad Caviar was to change the perception of this healthy, proten- and mineral-rich food," says Jason Cohen, the company's founder. "Many people who love and appreciate the rich flavours of caviar only get to savour it during the occasional celebration, a limitation driven exclusively by its high cost and luxury status. While the taste of caviar certainly warrants its reputation, there is no reason why it can't be enjoyed more frequently by those who find it delightful. You don't have to settle for just a mouthful. By going directly to the farms that supply the best hotels and restaurants, we have created an easy and accessible way for you to indulge in its sublime aroma and texture, whenever you feel like it."
The store currently offers two types of caviar with a host of other products to go along with its signature offerings. Nomad Caviar's Kaluga Hybrid caviar and Ossetra caviar are sold in bundles of two 250-gram tins for HK$5,000 and HK$5,776 respectively. They are also available in packs of 500 grams, 1 kilogram, and 1.7 kilogram. The company also offers three gift sets for each variety – the Party Pack, the Boat Days & Weekend Brunch, and the Date Night & Perfect Gift.
Regarding the tub size of the product Jason says, "The larger offerings truly capture the purpose with which Nomad Caviar began operations. Instead of tiny containers gratuitously marked up and displayed on high-end department store shelves, Nomad Caviar gives you a chance to purchase in bulk and enjoy caviar as it was meant to be. If the prospect intrigues you, we urge you to find out more about our varieties. You will taste the passion that we have put into bringing you the best caviar, sustainably and at reasonable prices."
The Kaluga sturgeon, also known as River Beluga, is farmed as a sustainable alternative to the endangered European sturgeon. It is bred from the two sturgeons native to China's Amur River Basin - the Huso dauricus, which is considered the largest freshwater fish in the world, and Acipenser schrenckii (Amur) sturgeon. Kaluga Hybrid caviar boasts large firm beads and bronze colour packs which caviar aficionados report have full flavour with notable minerality.
The Ossetra sturgeon fish originates from the Caspian Sea and the caviar has a rich history of being highly sought after for its versatility. When it comes to pricing and demand, Ossetra caviar is only beaten by premium Beluga caviar but is much more accessible as the increase in demand has shifted production towards sustainable aquaculture farms. Ossetra caviar has a firm, medium-sized roe, which ranges in colour from black to dark brown, and which connoisseurs appreciate for its complex and robust flavour.
"I found myself ordering caviar directly from a farm when I had to host dinners for my friends," Jason says. "The quality of the product we received and the enthusiastic demand from friends and family inspired us to look at caviar differently. We know that the concept has struck a chord and brings joy to the hundreds of customers who rely on us for making their brunches and dinners memorable."
Readers can head over to Nomad Caviar's website at https://www.nomadcaviar.com/ to find out more about the company's mission and to browse through its exciting product selection.
###
For more information about Nomad Caviar, contact the company here:

Nomad Caviar
Jason Cohen
+852 9773 2233
hello@nomadcaviar.com
8/F, 8 On Wo Lane, Central, Hong Kong